About us
ABOUT COMPANY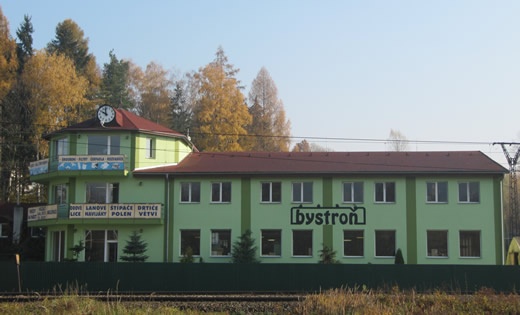 The BYSTROŇ - INTEGRACE company is engaged in the production of forestry, agricultural technology and a range of road maintenance accessories. Our main goal, we have been holding for many years, is to produce quality machines at a reasonable price and achieve maximum customer satisfaction.
All production takes place in our company therefore we are able to maintain the high quality and perfection in our machines processing. Our design emphasizes simple, practical and robust processing, which is the key in achieving excellent reliability and ease of maintenance. At the same time, we continuously invest in the innovation and development of new machines.
Thanks to our wide range of products, we are able to offer a machine for both a small household and a farm, as well as for a woodworking or road maintenance. As a Czech company we still focus on sales in the Czech Republic, but we're also exporting to many countries in Europe such as Germany, Austria, Poland, Slovenia and others.
---
HISTORY
The company BYSTROŇ was founded by Ing. Vilém Bystroň in 1990. At the beginning, there were few employees and the first production took place in small garages and other temporary spaces.
The first products include, for example, waste bins, asphalt milling machines, bitumen recyclers and leaf vacuum cleaners. Over the years, the production program has been formulated and developed in forestry and agriculture production. Today, the main products include chippers - branch shredders, cable winches, stump cutters and more.
Initially, we were able to produce only a few dozen machines per year at our company, but thanks to the high quality of our processing and the great customer satisfaction, our company prospered and we could grow. We have constantly invested in machine development and innovations. That's why we have advanced technology now and more staff, enabling us to produce better, faster and more efficient machines to maximize out customer satisfaction.
---
MACHINES MANUFACTURING
The machine quality is our top priority. Because our machines are used in heavy terrain and challenging conditions, we focus on simple construction, robust processing and easy handling.
We have our own production technology at the company such as CNC machine tools (lathes, milling machines, saws), enabling us to produce parts in exact dimensions quickly. ABB welding machine with two robot arms to improve weld quality. CNC plasma cutting. Heat treatment plant for the material processing and improvement of its properties. Own paint shop and modernized welding plant where machines are manually manufactured with individual care for each of them. Finally, the machines are checked and packed at the expedition.
---
Photo gallery